Information booths ("info booths") are popping up at more and more farmers' markets in Maine.
The primary service they provide to markets is that they offer a central location for shoppers to pay for all of their goods. At a busy market, the information booth cuts down on the transaction time for vendors, since they no longer have to process card transactions with their own devices. Shoppers enjoy the shorter transaction time, too! Many farmers report that their sales have gone up since they added an information booth to the market. Many shoppers have admitted the same thing–they spend more when they don't have to swipe their cards so often!
LINK: Check-list and How-to for info booth volunteers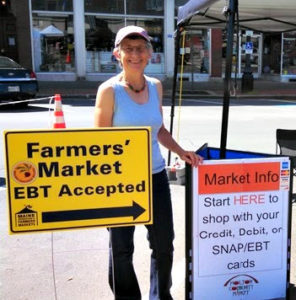 Most information booths at farmers' markets serve an important function–allowing farmers' markets to accept and process SNAP/EBT cards. It may be easy for farmers to accept credit and debit cards on their phones or tablets with special apps. However, that is not the case for SNAP/EBT, which is a more costly and cumbersome process. Most markets in Maine that accept SNAP/EBT also provide Maine Harvest Bucks nutrition incentives to double the value of shoppers' SNAP food benefits. Thus, information booths, and the people behind them, help make farmers' markets accessible to everyone in the community.
Many farmers' market information booths are staffed by volunteers. Other markets have paid staff, which are covered by vendor dues from the market and/or outside community support. Local partners, like the United Way or a faith-based group, also take up the cause of staffing info booths to help ensure that farmers' markets are accessible to all. Every information booth has its own story of farmers and community members coming together to help make their market and community a better place where everyone can eat well. That's yet another aspect to appreciate when you're at the market, outside, seeing neighbors and friends, and buying delicious and healthy food on a nice sunny day. Don't forget to thank your info booth staff and organizers.